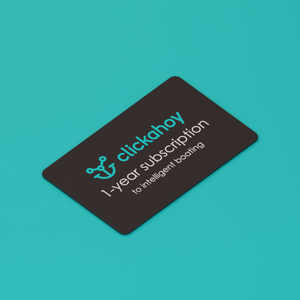 clickahoy 1-year subscription
CHF 14900

CHF 149.00
Tax included.
---
---
The ultimate access to your own clickahoy mobile and web app. Be connected to your vehicle in real-time, profit from unlimited data and benefit from continuous enhancements. 
The clickahoy app ecosystem includes:
Sensor monitoring
Trip extraction and automatic logbook generation
Alerts and notifications
Calendar for sharing and notes
Document storage
Extensive sensor support and digital switches
AI-based maintenance
A direct link to your professional partner (mechanic, shipyard, etc.)
And much more!
Purchasing this product will give you an access voucher that enables clickahoy for one year. 
See clickahoy.io for more details about clickahoy.