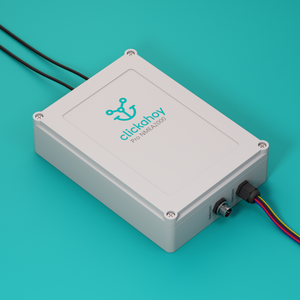 clickahoy pro NMEA2000
CHF 29900

CHF 299.00
Tax included.
---
---
Turn your boat into an intelligent vehicle thanks to newest IoT technology. The clickahoy pro version with NMEA2000 support for even more data, enhanced interaction and expanded access to your boat. The computer fits into every boat thanks to its 104,1 x 76,8 x 31,5mm size. Protected by a waterproof case, enhanced with an NMEA2000 plug and an international SIM card you are ready to conquer the seven seas.
Specifications:
The Pro model is a professional series device from Teltonika Telematics with 4G (LTE Cat 1), including 3G (UMTS), 2G (GSM) fallback compatibility and GNSS / LTE and Bluetooth modules. For the Pro model, the NMEA2000 protocol has been implemented in collaboration with c.technology and integrated into the data processing pipeline accordingly.
The Pro model maximizes the efficiency of your vehicles with features such as FMS CAN data (J1939), fuel CAN data (J1708), live tachograph data (K-Line), remote download of tachograph files, support for various third-party RS232 or RS485 devices, and dual SIM.
Connected to the c.technology cloud and displayed on our awesome apps (Google & Apple). See clickahoy.io for more details about clickahoy.
Download our Android and iOS apps here, or access the webapp via app.clickahoy.io.