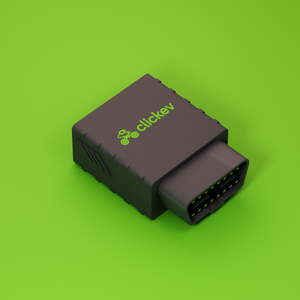 clickev standard OBD2 / CAN
CHF 19900

CHF 199.00
Tax included.
---
---
Whether electric bike, electric snowmobile, or electric watercraft: We have the plug'n'play solution that accompanies you on all your wildest adventures! No matter if in the snow, in the sea or in the mountains.
Turn your vehicle into an intelligent vehicle thanks to newest IoT technology.
The clickev computer fits into every vehicle thanks to its small 67,2 x 49,6 x 25 mm size. Allows reading OBD2 / CAN bus data from your vehicle and includes an international SIM card that makes you ready to conquer any place on Earth.
Specifications:
Our clickev OBD2 or CAN IoT-device represents next step in communication technology – this is the first Plug and Track LTE OBD device with GNSS and Bluetooth connectivity. Possibility to read OBD II parameters, effortless installation and detailed accelerometer data provides a compelling solution.
This is perfect solution for a wide range of applications of light private and commercial vehicles, sharing & leasing, driver logbook, insurance telematics (UBI) and much more.
The device supports various Bluetooth Low Energy sensors, beacons, firmware and configuration update through c.technology.
Let us know if you are unsure which CAN bus protocol your vehicle supports, or if you require any particular adapter.
Connected to the c.technology cloud and displayed on our awesome apps (Google & Apple). See ctechnology.io for more details about our products and services.